Google "Most Connected"
seriously google it.
MEDIA BIO
Featured on Showtime's Dark Net, the cover of Businessweek, interviewed by the Wall Street Journal, NPR, the BBC, Fox News and Wired. Purveyor of TED talks. Subject of TED talks.
Chris Dancy is touted as "the Most Connected Man on Earth," and the world is watching those connections carefully. For 25 years, Dancy has served in leadership within the technology and healthcare industries, specializing in the intersection of the two. Chris entered the public dialog concerning digital health as the media started to focus on wearable technology. He earned his moniker by utilizing up to 700 sensors, devices, applications, and services to track, analyze, and optimize his life--from his calorie intake to his spiritual well-being. This quantification enables him to see the connections of otherwise invisible data, resulting in dramatic upgrades to his health, productivity, and quality of life.
A noted keynote speaker and executive workshop retreat facilitator, Chris guides organizations and audiences on a journey--a disruptive, breathtaking journey--into the future of computing, when behavior becomes the ultimate interface. As a author his digital wellness journey will transform how we look at the technology of our lives. "Don't Unplug" his first of a three book trilogy on living with technology is available now.
SPEAKER BIO
Health and wellness pioneer, healthcare technology leader and entrepreneur, Christopher Dancy is frequently referred to as "the world's most connected human." Since the 1990s, when he was responsible for platform and technical development for the internet startup of WebMD, he has helped launch a number of successful startup companies in the technology and healthcare industries while serving in digital product development, senior management and leadership roles.
He has been featured on the cover of Businessweek and as"patient zero in the digital health revolution" for the Showtime documentary series Dark Net, and has been interviewed by the Wall Street Journal, NPR, the BBC, Fox News and Wired. As a personal health visionary and innovator, utilizing up to 700 sensors, self-diagnostic devices, applications and services to track, analyze and optimize personal health management – from caloric intake to spiritual well-being, he is able to demonstrate the connections of otherwise invisible data and forecast a transformation that will soon take place in consumer health and nutrition, healthcare business and beyond.
His credits include "author" with the release of a manifesto and autobiography via St. Martin's Press entitled "Don't Unplug - How Technology Saved My Life and Can Save Yours Too."
FEATURED HEADSHOTS AND PROMO PHOTOS
In 2002, Chris Dancy was overweight, unemployed, and addicted to technology. He chain-smoked cigarettes, popped pills, and was angry and depressed. But when he discovered that his mother kept a record of almost every detail of his childhood, an idea began to form. Could knowing the status of every aspect of his body and how his lifestyle affected his health help him learn to take care of himself? By harnessing the story of his life, could he learn to harness his own bad habits?
With a little tech know-how combined with a healthy dose of reality, every app, sensor, and data point in Dancy's life was turned upside down and examined. What Marie Kondo did for closets, Dancy did to his phone and life—and now he's sharing what he knows. That knowledge includes the fact that changing the color of his credit card helps him to use it less often, and that nostalgia is a trigger for gratitude for him.
A modern-day story of rebirth and redemption, Chris' wisdom and insight will show readers how to improve their lives by paying attention to the relationship between how we move, what we eat, who we spend time with, and how it all makes us feel. But Chris has done all the hard work: Don't Unplug shows us how we too can transform our lives.
ADVANCED FEEDBACK FOR BOOK & DANCY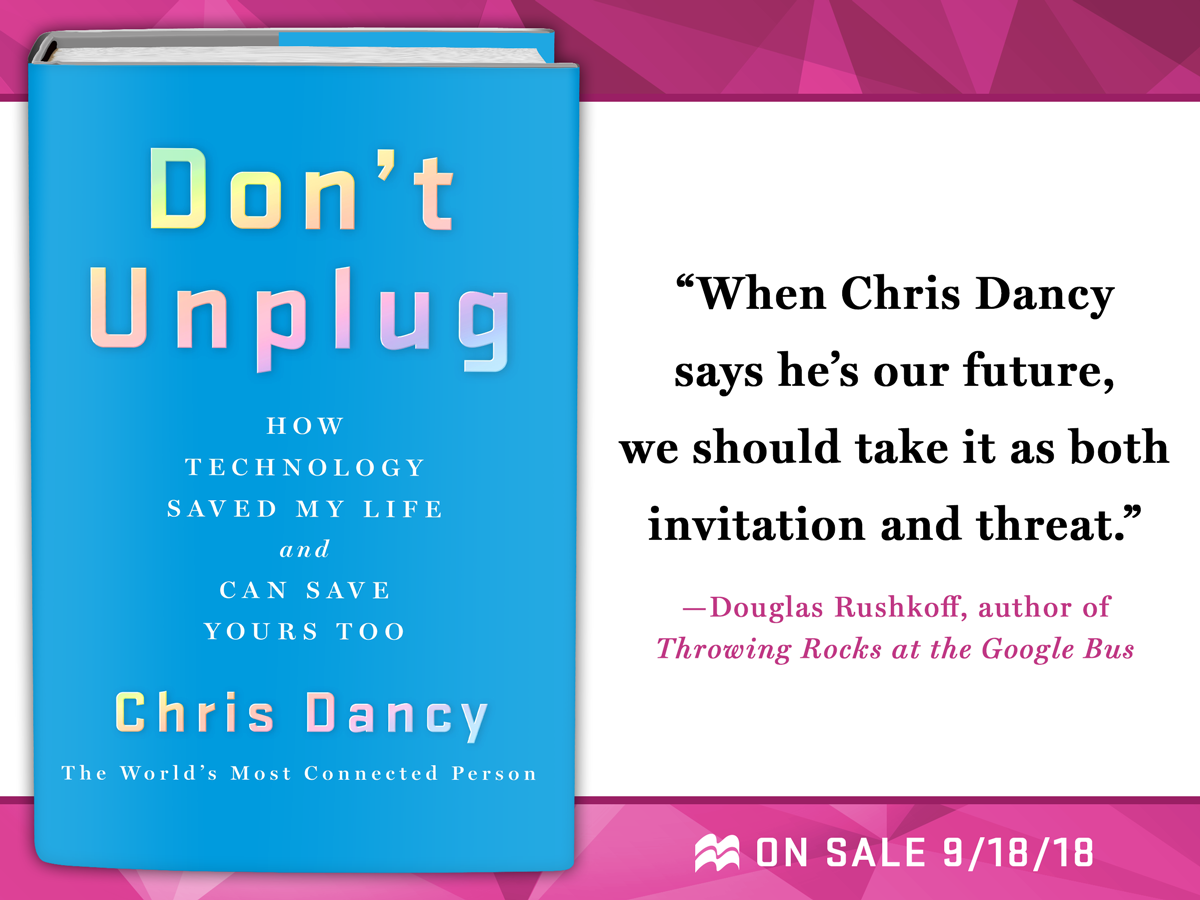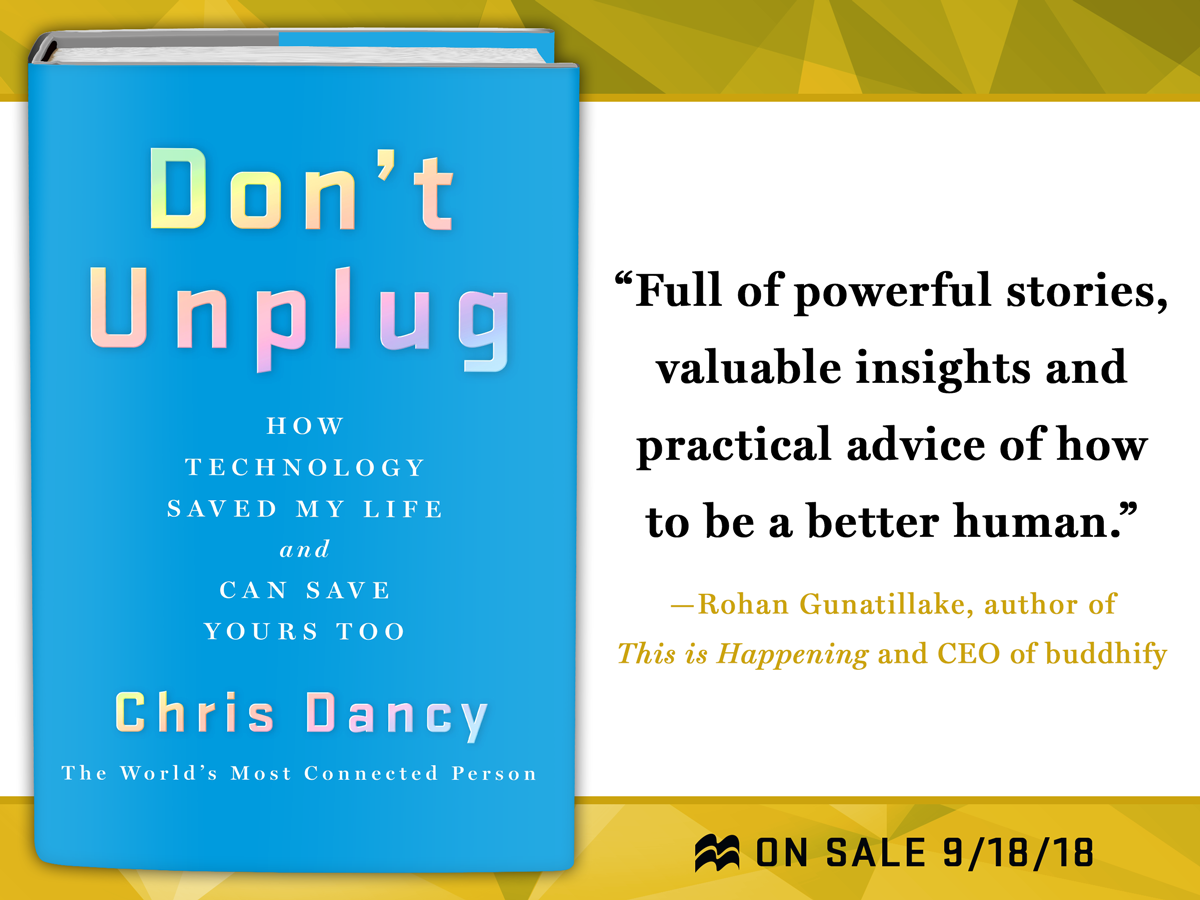 HISTORY OF DATA AND CHRIS
Click to enlarge and read